It's 22:53 and I'm writing this 2000 worded blog post to prove to you that I actually completed this detailed post in 2 hours.
I'm going to walk you thru the precise process by which I went about structuring this blog post and also the resources that I accessed to prove that this is possible for you too.
Why Write 2000 Worded Articles?
I've been following a lot of top bloggers and the general trend that I see in most of their blogs is long-form epic blog content.
The search engines are also getting smarter by the day and want to rank only those articles which have a better readability and quality content.
In fact, it's much easier to out-rank blog articles by simply writing top notch long-form blog content, if you're going after any specific keywords.
In the past, bloggers would be able to rank on search engines with 500-700 worded articles.
But today, especially with so much of competition and content out there, 2000+ word blog posts is the only way to stand out from your competition.
This also gives you the ability to add immense value to your community to gain trust and authority.
In fact the longer your blog post, the higher chance of it being shared on social media.
When your audience gains trust in you, then they will buy from you. That's how many of the most successful bloggers are able to live a laptop lifestyle.
My recent interview with Kulwant Nagi (who's done over $400,000 thru his blogs) is a classic example of how long-form blog writing can literally change one's lifestyle.
STEP 1 – Planning
80% of your success in writing a 2000 word blog post lies in your planning. Only 20% in the actual execution.
When you know what you want to write about, it becomes so much easier to get the words out of your head.
It's only when you're trying to think about what to write about, that you end up spending way more time on your blog post than you should.
1. Know Your Audience
Once you know who you are writing for, it becomes so much easier to plan your blogging topics.
I normally ask every person in my blogging mastermind to create a customer avatar document for themselves. A customer avatar is more like a "buyer persona".
A lot of bloggers tend to write stuff from their point of view, but when you switch this and think from the perspective of your ideal audience, then blogging becomes so much more fun!
2. Note Down Their Pain Points
Another word for 'pain point' is 'hot button'.
What makes your blog audience 'itch'? What drives them? What problems do they face?
I use a tool called Answer The Public to find out what my readers are searching for, and what questions they are typing in the search engines.
The Google Keyword Planner is also a very valuable resource for you to get your ideas.
Once you put all this down in a list format, you can start planning your blog schedules based around those topics.
3. Craft Your Attention Grabbing Headlines
The headline of your blog post is as important as the blog content itself.
If you've written an epic blog post but if your headline is weak, then you're going to lose out on a huge amount of readers.
Just like in newspapers, we normally tend to read the headline first, and only if it's catchy enough do we go ahead and read the article. The same applies to blogging.
4. Mindmap Your 2000 Word Blog Content
Before I started to write this blog post, I went to my favorite tool – Mindmapping.
It took me just 3-5mins to put down the overall structure of this blog post and the different sections and sub-sections.
Once I got all the sections on a mindmap, then I started to write my blog post.
What I focus on while writing is adding value section by section. Makes the writing process so much easier.
5. Join A Blogging Mastermind Community
I started the Internet Lifestyle Alliance community with a single intention that I wanted to create the world's biggest community to bloggers who are unified in making the world a better place thru high-quality content.
This community is growing really fast and we are adding new bloggers in here every week.
The key benefits of being a part of a blogging community are:
Help You Plan Topics – You can get live feedback from members of the community for you to choose best blog topics to write on.
Keeps You Motivated – When you're a lonely blogger, there's no one to question you, and many times laziness creeps in. By being a part of a community you have others watching you and motivating you.
So join a blogging community or click here to apply to be a part of the Internet Lifestyle Alliance.
6. Keep Collecting Top Valuable Resources
Whenever I'm browsing the internet and come across some really cool stuff, like articles, images, etc. I immediately bookmark them.
I also main folders with swipe files of top blogs, catchy headlines, infographics, podcasts and case studies.
Whenever there is a need to write about something related to the specific topic, then it becomes easy for me to pull up those links and resources to add to my blog post.
This also means that you've got to be alert at all times.
Keep your antennas alert for cool information.
Learn to teach and share your information with the world.
7. Make A Blog Publishing Schedule
When you know your top 10 blog topics to write per month, the burden is reduced drastically.
This planning gives you more time to research on exactly what you need to be writing about next.
Set up a spreadsheet with all your top topics and headlines. Also, mention the publishing date as a goal.
Put this on your calendar if you have to, then you will see it every day and this will motivate you to go ahead and write the blog.
The Kalatu Premium Blogging system has a content calendar feature built into its system and this helps bloggers create their content schedules in a matter of minutes.
STEP 2 – Writing
Once you're done with all the planning, it all boils down to writing.
You may not be great when you start blogging, but the more you write, then better you will get. It's like exercising a muscle.
1. Improve Your Writing Style
I've seen many blogs where there's a lot of content, but the style of writing really doesn't connect with readers.
Here are a few tips to improve your writing style:
Capitalize your blog headlines. It will look neat. "How To Make Money Blogging" vs "How to make money blogging". 
Write like how you talk. It will only then connect with your readers.
Write smaller paragraphs. Do not have more than 3 lines per paragraph.
Use bullet points. This makes it easier for your readers to consume information.
Simplify. The more you can get done with all the fluff, the better. Straightforward, crisp and simple content is what people love to read. I'm sure you're already loving this blog post due to its simplicity.
Install Grammarly. Grammarly is a really cool tool which comes with a Google Chrome or Firefox extension where you can edit all your text. I use this extensively to correct all grammatical errors and spelling mistakes.
2. Improve Your Writing Speed
You may not be the fastest blog writer when you get started, but eventually, you will be able to get more done in a shorter span of time. Here are some tips on who you can improve your writing speed.
Believe you can. A lot of us have mental blocks that 2000 words are a lot of content to write. But if you can make that switch in your mind that "you can do this", you will.
Set a timer & write. Many times I just set up a 30mins timer and start writing till I hear the beep. This gives me a clear focus on just writing. This helps me write more content in a short span of time.
Create your writing routine. You may be a night or day person. In any case, see if you can block out 1hr a day just for your writing works. Do it for 21 days straight and this will become a routine.
Stop all distractions. Some of the biggest distractions which will stop you from writing fast is WhatsApp, Twitter, Instagram and Facebook messenger. Please put your phone on 'airplane mode' and then start your writing. The world can wait.
Format-free writing. Sometimes when you write directly on WordPress, you tend to get so caught up in formatting your words and paragraphs that you end up wasting a lot of your writing time. What I suggest is that you use just a plain text files to write your blog posts and then bring it on to your WordPress editor.
3. Top 3 Things To Avoid While Blogging
Content Plagiarism – Do not directly copy and paste content from other blogs. If you're using some data from other blogs, make sure that you acknowledge the source and only take parts of the content which you see the relevance.
Copyrighted Images – I used to pick up images directly from Google search and use them in my blogs initially. But then I learned that you can get into licensing issues for using copyrighted material. Just search for 'free stock images' on Google and access many royalty free image website for your images.
Procrastination – This is a big one. I've been a victim of this one and that's why I'm writing this. Postponing your blogging activity can be a huge demotivator for yourself. Follow thru on your commitment, and this will inspire you to write many more 2000 word blog posts.
STEP 3 – Publishing
Publishing is an art of its own. Once you've written your blog texts, then you've got to polish the content and visuals to impact your readers.
1. Format Your Blog Post
The Headline. Make sure that you have a catchy headline and run them thru the co-schedule headline analyzer. Only have headlines which score above 70%. Use Headline tags also appropriately.
Add Images. You can pick up images from royalty free websites and add images in separate sections. Visual content is more informative than textual content. Have a mix of images and infographics.
Hyperlinking. Once you've done your headline formatting and added all the appropriate images, then start hyperlinking key phrases to 'internal pages' within your blog and 'external pages'. This will make your blog post more strong from an SEO standpoint.
Add Call-To-Action At The End. Always add an appropriate "Call To Action" at the end of your blog post. This gives you the opportunity to sell products or services. You are spending so much time to write a 2000 word blog post. Don't you want to monetize this effort?
2. Proofread Before Publishing
Reading Aloud. The best form of proofreading is to read your blog post aloud. Many times we tend to miss out on spellings and grammatical errors by just skimming thru the content. By reading aloud, you will be able to pick up all the flaws. This will also help you rephrase sentences and simplify them.
Simplify. If you feel that you have repeated some lines or words many times, you can remove the fluff. Your readers will appreciate your posts when it's crisp and clear.
Publish. Once you're done with all the above steps, then you can hit the PUBLISH button to your 2000 word blog article.
Final Thoughts
It's 23:54hrs and I realized that I've written 2100 words in 1hr.
The reason I was able to do this is because I had all the sections laid out even before I started writing.
I spent the next 1 hour in beautifying my blog post by adding appropriate images, data points, and infographics to support all the information here.
So writing this 2132 word blog post took me exactly 1hr 56mins, and it was not very hard. Once you know your content game plan it will be easy.
Below is the mindmap of all that I planned before I started to write this blog post.
Click on the mindmap below to learn how you can make $3000 per month thru blogging & content marketing.
Our Blogging Mastermind
If you're keen to join our blogging mastermind, apply here.
Once I receive your application, I will review them and will send you details on how you can be a part of our community.
In this community, we help each other grow as well as learn from each other, as we have bloggers from various walks of life.
My vision is to grow this community to 10,000 members by the year 2020 and help every member create a $10000/month financial result thru blogging.
Hope this blog post has added value to your life. If so, please share your thoughts and comments below.
After personally writing over 731 blogs, I sometimes feel… "why am I not able to get consistent massive traffic on every single blog post?"
So I started to analyze all my posts and came across some interesting insights.
Many times we forget the basics, and I've crunched down all those insights into 11 tips to improve your blog views.
I've specifically written this post so that:
I can remind myself of all the forgotten tactics which I used to use earlier, but for some reason did not maintain consistency.
I can help you cut short your learning curve and get better results thru blogging by applying this formula.
If your blog posts are not getting enough traction as you expected, then this formula is guaranteed to help you boost your readership.
1. KNOW YOUR READER
When you're deeply in love with someone, you'll know every pulse of their body and mind.
In fact, you'll also know exactly what they are going to say when you're so connected. Do you agree?
That's how you need to know your readers.
When you're able so "see thru" their lens of life, you'll start to get a lot of ideas on hitting the right nerve, when it comes to content.
2. WRITE USEFUL CONTENT
How do you really know if your blog post is useful to your reader or not?
– The first sign is that when you post a teaser on social media about this topic, you'll get a lot of responses asking for this information.
– The second sign is that you'll find a lot of questions around the topic on forums, Quora, and other online communities.
– Finally, if this content is useful to you, then there's a high chance that it will be useful to someone else.
There's enough and more content out in the digital universe.
Usability of a piece of content is what makes it stand out from the noise.
3. WRITE WITH PASSION
Energy is everything. Passion is just an expression of that energy.
So before you even start writing your blog post, just think about what state of mind you're in.
Are you really writing your post for the heck of it?
Or are you writing every word with so much passion, that your readers actually feel those same goosebumps as you do?
That's called writing with passion.
You must love your topic.
You must love your readers.
Only then will the passion translate into the minds of your readers.
4. WRITE POWERFUL HEADLINES
A headline's job is to do one thing – to get your readers to click thru to the content.
If you spend as much time on your headline as your content, then half of your work is done.
I had compiled a list of 181 most-amazing headlines which can get you more clicks. You must check it out.
Make sure that your headline is benefit driven and has the right amount of power words to grab the attention of your readers.
5. CURATE WITH PRECISION
It's very easy to ramble around a particular topic when you write your blogs.
The tougher thing to do is to remove all that fluff and get straight to the core messages.
Curation is an art. It's more about removing unwanted words and sentences than adding new ones.
By having the right balance of words and images, your blog has the potential to change a person's life.
6. VOICE YOUR OPINIONS
The sign of a good blogger is his/her ability to give their own unique twist and opinion about a particular subject matter.
Voicing of one's opinion must be a combination of logic, wit and a sense of creative expression.
When you write your next blog post, ensure that you express your 'reason why' about that piece of content.
It will have more impact and power than just keeping it generic.
Facts vs Opinions – Make sure that your opinions are also backed by some facts that you gather. Then it will have a long-lasting impact in the minds of your readers.
7. MAKE YOUR BLOGS SCANNABLE
Imagine reading a blog post that's filled with huge chunks of paragraphs, and absolutely no sub-sections, bullet points or images.
A lot of readers will just get intimidated and will probably 'x-out' from your page. This is because most people in the world today do not have the patience to read huge chunks of text.
This is where your formatting and editing skills come into play.
To make your blogs scannable:
– Have multiple sub-sections in your blogs (like this one)
– A picture speaks a thousand words. Have multiple images which relate with your sub-sections.
The sign of a good blog post is that both the 'scanner' mindset and the 'in-depth' reader get value from the post.
8. FOCUS ON YOUR DESIGN
You have only one chance to make a great first impression.
Most people make micro-second judgments just by looking at the look and feel of your blogs.
Keeping your blogs clear and uncluttered only reflects the way you are in real life.
When you start to develop that sense of design and aesthetics, then your readers also will start to look at you as someone who has a taste for design.
The elements of good design are:
– Choosing the right blog theme with clean and clear navigation
– Choosing the right fonts that match your content theme
– Choosing the right colors that fit your topic
No matter how good your written content may be, if you are not able to grab people's attention thru your design then you've lost out on a huge audience.
9. OPTIMIZE FOR SEO
This sure is a deep topic and many bloggers forget to implement this tactic in every post of theirs.
SEO is search engine optimization.
You may know that there's something called 'on-page optimization' and 'off-page optimization'.
To get more blog readers, you just need to follow one formula.
Write articles based on what your readers are searching for.
Keyword research. Write content. Publish. Share article. build community.
There are may other techniques when it comes to SEO.
But for this post, just keep it basic:
– Perform the right keyword research
– Use the right keywords in your headline and body contents
– Use the keyword behind a few images using the 'alt tag' feature
– Consistently maintain a blogging routine
– Comment on other related blog posts
10. MAKE IT EASY TO SHARE
How easy are you making it for your readers to share your epic post? Example, you can reweet this post below.
After personally writing over 731 blogs, I sometimes feel… "why am I not able to get consistent massive traffic https://t.co/Da7qlOW1yj

— Siddharth Rajsekar (@sidz) May 14, 2017
Do they have to search all over the blog for share buttons or have you make this easy?
Easy to share blog posts comprise of a few important aspects:
– Choosing the right sharing plugin
– Ensuring that the right featured image loads while sharing on social media. Image dimensions & design.
– A catchy headline, description & call-to-action
We know that the most powerful form of marketing is 'word of mouth'.
Imagine if, even one influencer shares your content on social media? What can this do your blog reach and influence?
11. SHARE ON SOCIAL MEDIA
While you make your blogs easy to share for others, what are you doing personally to ensure that you increase your viewership?
What I do is share my latest blog posts in the following media:
– Sharing links to my blog on top social media platforms
– Record a Facebook LIVE talking about the upcoming blog
– Submitting the blog article on multiple social bookmarking website directories.
I talk more about this in my private mastermind sessions.
CONCLUSION
Whether you're a beginner or a pro in the blogosphere, you are bound to hit a writer's block.
During these tough times, the only way to get out there and write hard-hitting emotional content is by reminding yourself of these 11 forgotten tactics.
If content were KING, then context is EMPEROR.
Make sure that you tie all these 11 tips for sharing content with the right audience.
Are you looking to get more readers on your blog?
More traffic = more leads = more sales = awesome life!
While doing my research on this topic, I stumbled upon various top bloggers like Neil Patel, who shared some of their strategies on how they attract over 10,000 hits per day traffic on their blog posts.
In fact Neil Patel says in one of his posts that reaching 10,000 per day is very doable. He has multiple sites that reach well beyond this number.
Fair warning: it takes a lot of time and work.
I would like to share with you some ways that I research on how you can start drastically growing your traffic so you can eventually get to that point.
If you truly want to see changes in your blog, you need to create the right kind of content for your target audience.
You can't just publish your valuable content and pray for your target audience to visit your website.
You need to invite the people who will like your great content to your website.
Based on my research I've selected my top 10 methods from Neil Patel's original post on his blog.
1. Make your post into an infographic or a short video post
Visual content makes up to 93% of the content included in all human communication and this is why it works wonders with social media marketing.
1. Infographics – They are huge among B2B marketers. Their usage saw a tremendous increase this year – 11% (from 51% last year to 62% now).
Making your post into an infographic for the social channels is simple.
Just write the key points from your article. Then use a drag and drop tool like Infogram or Piktochart.
Ensure that the infographic fits your brand's style and blog's design.
If you're ready to spend around 500$, you can also hire a designer from Dribbble.
Next comes the important part – using the right distribution channels. You can submit your infographic to some of the following infographic directories.
2. Send the blog link to your email list
Email is a personal channel of communication.
It's little wonder that for acquiring new customers: Email is 40 times more effective than Facebook and Twitter combined.
Send your list an update for every new post published from your editorial calendar (like Neil Patel does).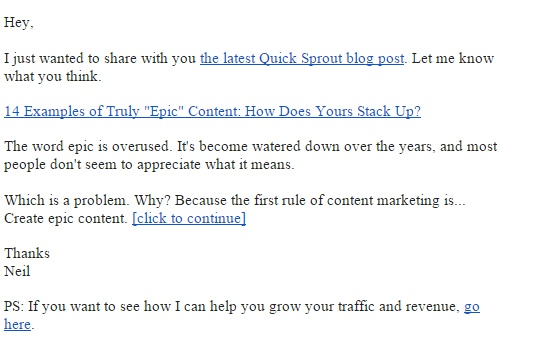 Some people don't like leaving their emails. So, they consume content in their inbox.
3. Get 2000+ Page Views from SlideShare
SlideShare is the biggest website for creating presentations and an underused platform by many media marketing experts.
It gets 50+ million unique visitors every month making it great for content promotion.
Also: The SlideShare team promotes good presentations themselves.  They do this on their social media channels and their homepage.
Here are steps to get started with SlideShare.
Step 1 – Create slides summarizing key points from your blog post. Work extra hard on the design.
Step 2 – SEO rules apply if you want to get noticed by the search engines.
Use keywords in the title and description strategically. Targeting long-tail keywords in slides has particularly been found to do well (even in search engine giant like Google).
Step 3 – Promote the SlideShare presentation through your social networks. And, embed it in your blog post as well.
Step 4 (Optional) – If it's a relevant presentation displaying your work experience, you can also add it to your LinkedIn profile summary.
They appear as clickable links on your profile.
Finally, follow SlideShare's guidelines to increase your chances of getting noticed.
Getting on Slideshare's homepage can get you 2000+ page views, again that's great for content promotion.
4. Get on BuzzFeed's first page
BuzzFeed gets 170 million monthly page views.
And 50% of its traffic is from the age bracket of 18-34.

Getting published at BuzzFeed can get you tremendous exposure and do good things for your search rankings (it's a DA 94 website). BuzzFeed also has a strong presence across the social channels.
And, it's easier than you think. BuzzFeed has a community section where it publishes crowdsourced stories from users.
The best part is that BuzzFeed pushes the good stories and great content from the community. It promotes the stories through its social channels and puts them on the homepage.
Just make sure you tick the "Suggest For Community Feature" before publishing your post. You can submit 1 post/day with the request to get featured.
5. Get thousands of pageviews from Reddit
Reddit is a gigantic online forum boasting an impressive Alexa rank – 30.
It is a gold mine for driving traffic to your website, but you need to be careful when implementing it in your media marketing plan.
Reddit users hate spammers…
They don't seem to have much use for content marketers in general.
Stratupbros puts it aptly.
6. Engage on Quora, have fun and build your audience
It's highly likely that you have found an Oliver Emberton article floating in your Facebook or Twitter feed.
Oliver's most popular article – life is game, has been shared a whooping 644,000+ times on the social channels
A major reason for his success with social media marketing is originality in the presentation of his ideas. He also uses custom images like this.
7. LinkedIn – A goto distribution platform for B2B marketers
94% of B2B marketers distribute their content creation on LinkedIn.
eady to get started with LinkedIn publishing?
Then follow these steps by HubSpot.
8. Offer your post as a podcast to reach a new audience
New York Times explains that internet connected cars are a major reason for the Podcast Renaissance.
This renaissance has led to 26% of content marketers planning to increasing their podcasting activities.
But, only 10% use it right now, so your window of opportunity is wide open for working it into your editorial calendar.
A huge benefit of podcasting is that your consumers often become regular listeners.
Don't get scared.
Getting your editorial calendar content published on the biggest blog in the world is easier than you think.
You know people have been published at Huff Po by pitching Arianna Huffington directly.
 Final Thoughts
The first step is that you need to have some really valuable and shareable content, like this one.
If you consistently implement these techniques for three months without giving up, you'll generate more qualified visitors to your blog – likely, 20,000 or more.
In many cases you don't have to even write all of them yourself. You can just get good at curating the best content like how I just did on this post.
This post was originally on Neil Patel's blog, but I took parts of the post and shared it here giving my own twist.
As long as I'm acknowledging the source and not making this post seem as mine, it's ok. Neil will like the fact that more traffic is going to come to his blog post via my blog.
You can make some serious money online once you start generating some good blog traffic.
If you're up for it, then click on the link below and learn how blogging can change your lifestyle.
Here's a proven system

which has created over 13 internet millionaires in the last 3 years.
You may have all the desires and dreams to "make the world a better place through" your products or services, but if you're not keeping a close watch on your finance numbers, you're in for some trouble.
After consulting with many businesses, I've come to realize that goal setting, budgeting and having a positive cash flow are the lifelines of a sustainable business future.
1. Get Your Business Model Right
The first step to ensuring that your business does not bleed to death is to create a simple proven business model and to be clear on your numbers.
Business models are like instruction manuals for your business. These archetypes could help you build a successful company.
2. Revisit Your Business Plan
Why I like the internet based digital business models, is because there's both technology leverage as well as the potential for lesser overheads and higher margins.
Having the right Business Plan, and getting advice from some of the best minds in the industry is a sure shot way to reduce your burn rate and learning curve. Model the best, and you can avoid years of heartburn.
When you create a Business Plan, you've got to have the following elements in place.
3. Acknowledge Your Mistakes & Change Them
Before we get into the solution on how to stop businesses from bleeding, let's understand some common patterns which cause businesses to fail. Here's 16 reasons.
With all of this going on, you can never expect to run a profitable business. Rather you've got to start focusing more on doing the opposite.
"My mentor did $200mn of online sales." Watch How He Does It
4. Get Your Business Budgeting Right
If you're looking for a sample budget for business, then this infographic below can help you set your priorities. I got some of these ideas from the Hiscox blog.
If  you're preparing to launch your new business or online business, then this can help.
Whether you're just about to start an entirely new business or want to expand your existing company, budgeting is one of the most crucial action points for any entrepreneur.
What To Budget In?
1. Research costs
How much will it cost to launch, run and grow your business? The first step in any business budget is researching the costs involved in the business. Be realistic about your business's costs to avoid any surprises once you start taking action.
2. Project revenues
How much revenue can your business generate? The second step in preparing your budget is to calculate how much revenue your business is capable of generating and the extent to which it can grow.
3. Figure out gross profit margins
How much of your business's revenue can you keep as profit? Work out your gross profit margin by deducting the costs of running your business from the amount of revenue it generates each month.
4. Create a 12-month cash flow projection
How steady will your business's cash flow be? The fourth step in creating a budget for your business is working out how steadily cash will flow into your business from its customers, clients and partners.
5. Adjust for unreliable payers
Is your business prepared for unreliable payers? Prepare for missed payments and other financial setbacks ahead of time so that your business is ready if a customer fails to pay their bills as they come due.
6. Adjust for seasonality
Does your business sell a product or service with seasonal demand? Work out how seasonal changes to the level of demand for your business's product or service may affect its cash flow throughout the year.
7. Adjust for economic and industry trends
Does your business sell a product or service for which demand is growing or one for which demand is decreasing? Look at industry and economic trends to determine if your business has a viable or difficult future
8. Decide how to spend
You've worked out the costs of starting and growing your business – now, how will you spend your budget? Work out how much you need to spend on certain items or services so that you're fully prepared when it's time to start your business.
9. Discuss costs with suppliers
Can you get a better deal on certain products and services by negotiating with your business's suppliers? Talk to your business's suppliers to learn how much you need to spend to get your business off the ground and growing steadily.
10. Discuss expenditure with department heads
How much cash does each part of your business need to operate successfully? If you need to spread your budget between several departments, this is a great time to talk to department heads and learn more about their financial needs.
11. Prioritize investment
How should you spend the money your business generates? Step 11 in the process of preparing a business budget is working out how you'll spend money to fuel the growth and development of your business over time.
12. Create a contingency plan
Is your business prepared for financial setbacks? Your budget should have a detailed plan of action that you can use to recover from financial issues or deal with a missed monthly or quarterly target.
13. Plan regular budget reviews
The best plans don't stay the same over time – instead, they keep developing as the situation changes. Plan regular budget reviews – once a quarter is a good idea – so that your business is always 100% in control of its financial direction.
14. Insure your business                                                                                                                                             You've put in all the research and hard work, it would be a good idea to insure your investment with a general liability insurance policy to protect that investment so that no unnecessary problem arises.
If You Found This Information Useful, SHARE This Post!
Here's a video of one of my mentors (who's done over $200 million in online sales). I'm always amazed by how he's able to live a life that's super productive & and purposeful. Watch this video.