Are you looking to get more readers on your blog?
More traffic = more leads = more sales = awesome life!
While doing my research on this topic, I stumbled upon various top bloggers like Neil Patel, who shared some of their strategies on how they attract over 10,000 hits per day traffic on their blog posts.
In fact Neil Patel says in one of his posts that reaching 10,000 per day is very doable. He has multiple sites that reach well beyond this number.
Fair warning: it takes a lot of time and work.
I would like to share with you some ways that I research on how you can start drastically growing your traffic so you can eventually get to that point.
If you truly want to see changes in your blog, you need to create the right kind of content for your target audience.
You can't just publish your valuable content and pray for your target audience to visit your website.
You need to invite the people who will like your great content to your website.
Based on my research I've selected my top 10 methods from Neil Patel's original post on his blog.
1. Make your post into an infographic or a short video post
Visual content makes up to 93% of the content included in all human communication and this is why it works wonders with social media marketing.
1. Infographics – They are huge among B2B marketers. Their usage saw a tremendous increase this year – 11% (from 51% last year to 62% now).
Making your post into an infographic for the social channels is simple.
Just write the key points from your article. Then use a drag and drop tool like Infogram or Piktochart.
Ensure that the infographic fits your brand's style and blog's design.
If you're ready to spend around 500$, you can also hire a designer from Dribbble.
Next comes the important part – using the right distribution channels. You can submit your infographic to some of the following infographic directories.
2. Send the blog link to your email list
Email is a personal channel of communication.
It's little wonder that for acquiring new customers: Email is 40 times more effective than Facebook and Twitter combined.
Send your list an update for every new post published from your editorial calendar (like Neil Patel does).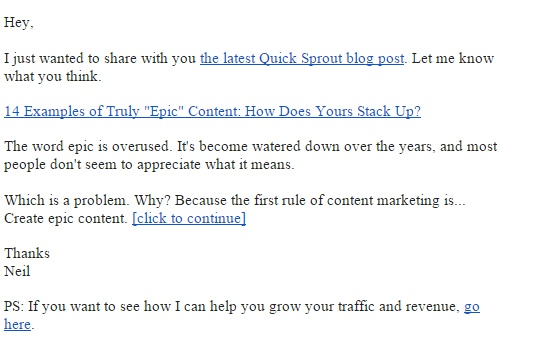 Some people don't like leaving their emails. So, they consume content in their inbox.
3. Get 2000+ Page Views from SlideShare
SlideShare is the biggest website for creating presentations and an underused platform by many media marketing experts.
It gets 50+ million unique visitors every month making it great for content promotion.
Also: The SlideShare team promotes good presentations themselves.  They do this on their social media channels and their homepage.
Here are steps to get started with SlideShare.
Step 1 – Create slides summarizing key points from your blog post. Work extra hard on the design.
Step 2 – SEO rules apply if you want to get noticed by the search engines.
Use keywords in the title and description strategically. Targeting long-tail keywords in slides has particularly been found to do well (even in search engine giant like Google).
Step 3 – Promote the SlideShare presentation through your social networks. And, embed it in your blog post as well.
Step 4 (Optional) – If it's a relevant presentation displaying your work experience, you can also add it to your LinkedIn profile summary.
They appear as clickable links on your profile.
Finally, follow SlideShare's guidelines to increase your chances of getting noticed.
Getting on Slideshare's homepage can get you 2000+ page views, again that's great for content promotion.
4. Get on BuzzFeed's first page
BuzzFeed gets 170 million monthly page views.
And 50% of its traffic is from the age bracket of 18-34.

Getting published at BuzzFeed can get you tremendous exposure and do good things for your search rankings (it's a DA 94 website). BuzzFeed also has a strong presence across the social channels.
And, it's easier than you think. BuzzFeed has a community section where it publishes crowdsourced stories from users.
The best part is that BuzzFeed pushes the good stories and great content from the community. It promotes the stories through its social channels and puts them on the homepage.
Just make sure you tick the "Suggest For Community Feature" before publishing your post. You can submit 1 post/day with the request to get featured.
5. Get thousands of pageviews from Reddit
Reddit is a gigantic online forum boasting an impressive Alexa rank – 30.
It is a gold mine for driving traffic to your website, but you need to be careful when implementing it in your media marketing plan.
Reddit users hate spammers…
They don't seem to have much use for content marketers in general.
Stratupbros puts it aptly.
6. Engage on Quora, have fun and build your audience
It's highly likely that you have found an Oliver Emberton article floating in your Facebook or Twitter feed.
Oliver's most popular article – life is game, has been shared a whooping 644,000+ times on the social channels
A major reason for his success with social media marketing is originality in the presentation of his ideas. He also uses custom images like this.
7. LinkedIn – A goto distribution platform for B2B marketers
94% of B2B marketers distribute their content creation on LinkedIn.
eady to get started with LinkedIn publishing?
Then follow these steps by HubSpot.
8. Offer your post as a podcast to reach a new audience
New York Times explains that internet connected cars are a major reason for the Podcast Renaissance.
This renaissance has led to 26% of content marketers planning to increasing their podcasting activities.
But, only 10% use it right now, so your window of opportunity is wide open for working it into your editorial calendar.
A huge benefit of podcasting is that your consumers often become regular listeners.
Don't get scared.
Getting your editorial calendar content published on the biggest blog in the world is easier than you think.
You know people have been published at Huff Po by pitching Arianna Huffington directly.
 Final Thoughts
The first step is that you need to have some really valuable and shareable content, like this one.
If you consistently implement these techniques for three months without giving up, you'll generate more qualified visitors to your blog – likely, 20,000 or more.
In many cases you don't have to even write all of them yourself. You can just get good at curating the best content like how I just did on this post.
This post was originally on Neil Patel's blog, but I took parts of the post and shared it here giving my own twist.
As long as I'm acknowledging the source and not making this post seem as mine, it's ok. Neil will like the fact that more traffic is going to come to his blog post via my blog.
You can make some serious money online once you start generating some good blog traffic.
If you're up for it, then click on the link below and learn how blogging can change your lifestyle.
Here's a proven system

which has created over 13 internet millionaires in the last 3 years.
You may have all the desires and dreams to "make the world a better place through" your products or services, but if you're not keeping a close watch on your finance numbers, you're in for some trouble.
After consulting with many businesses, I've come to realize that goal setting, budgeting and having a positive cash flow are the lifelines of a sustainable business future.
1. Get Your Business Model Right
The first step to ensuring that your business does not bleed to death is to create a simple proven business model and to be clear on your numbers.
Business models are like instruction manuals for your business. These archetypes could help you build a successful company.
2. Revisit Your Business Plan
Why I like the internet based digital business models, is because there's both technology leverage as well as the potential for lesser overheads and higher margins.
Having the right Business Plan, and getting advice from some of the best minds in the industry is a sure shot way to reduce your burn rate and learning curve. Model the best, and you can avoid years of heartburn.
When you create a Business Plan, you've got to have the following elements in place.
3. Acknowledge Your Mistakes & Change Them
Before we get into the solution on how to stop businesses from bleeding, let's understand some common patterns which cause businesses to fail. Here's 16 reasons.
With all of this going on, you can never expect to run a profitable business. Rather you've got to start focusing more on doing the opposite.
"My mentor did $200mn of online sales." Watch How He Does It
4. Get Your Business Budgeting Right
If you're looking for a sample budget for business, then this infographic below can help you set your priorities. I got some of these ideas from the Hiscox blog.
If  you're preparing to launch your new business or online business, then this can help.
Whether you're just about to start an entirely new business or want to expand your existing company, budgeting is one of the most crucial action points for any entrepreneur.
What To Budget In?
1. Research costs
How much will it cost to launch, run and grow your business? The first step in any business budget is researching the costs involved in the business. Be realistic about your business's costs to avoid any surprises once you start taking action.
2. Project revenues
How much revenue can your business generate? The second step in preparing your budget is to calculate how much revenue your business is capable of generating and the extent to which it can grow.
3. Figure out gross profit margins
How much of your business's revenue can you keep as profit? Work out your gross profit margin by deducting the costs of running your business from the amount of revenue it generates each month.
4. Create a 12-month cash flow projection
How steady will your business's cash flow be? The fourth step in creating a budget for your business is working out how steadily cash will flow into your business from its customers, clients and partners.
5. Adjust for unreliable payers
Is your business prepared for unreliable payers? Prepare for missed payments and other financial setbacks ahead of time so that your business is ready if a customer fails to pay their bills as they come due.
6. Adjust for seasonality
Does your business sell a product or service with seasonal demand? Work out how seasonal changes to the level of demand for your business's product or service may affect its cash flow throughout the year.
7. Adjust for economic and industry trends
Does your business sell a product or service for which demand is growing or one for which demand is decreasing? Look at industry and economic trends to determine if your business has a viable or difficult future
8. Decide how to spend
You've worked out the costs of starting and growing your business – now, how will you spend your budget? Work out how much you need to spend on certain items or services so that you're fully prepared when it's time to start your business.
9. Discuss costs with suppliers
Can you get a better deal on certain products and services by negotiating with your business's suppliers? Talk to your business's suppliers to learn how much you need to spend to get your business off the ground and growing steadily.
10. Discuss expenditure with department heads
How much cash does each part of your business need to operate successfully? If you need to spread your budget between several departments, this is a great time to talk to department heads and learn more about their financial needs.
11. Prioritize investment
How should you spend the money your business generates? Step 11 in the process of preparing a business budget is working out how you'll spend money to fuel the growth and development of your business over time.
12. Create a contingency plan
Is your business prepared for financial setbacks? Your budget should have a detailed plan of action that you can use to recover from financial issues or deal with a missed monthly or quarterly target.
13. Plan regular budget reviews
The best plans don't stay the same over time – instead, they keep developing as the situation changes. Plan regular budget reviews – once a quarter is a good idea – so that your business is always 100% in control of its financial direction.
14. Insure your business                                                                                                                                             You've put in all the research and hard work, it would be a good idea to insure your investment with a general liability insurance policy to protect that investment so that no unnecessary problem arises.
If You Found This Information Useful, SHARE This Post!
Here's a video of one of my mentors (who's done over $200 million in online sales). I'm always amazed by how he's able to live a life that's super productive & and purposeful. Watch this video.
It's all exciting when you want to start a business on the internet, with the vision of living the internet lifestyle, but when you start hitting the ground realities, that's when you've got to look into every aspect of your business.
Here's the 20 reasons why your internet business may fail:
No Market Need – Imagine trying to sell something which people do not want. It's a tough game!
Run Out Of Cash – This is the big one. Getting your cash flow in order is your #1 goal.
Not The Right Team – Whether it be freelancers or full-time employees, you've got to get A Players on board.
Get Outcomped – If you competition is tough, you better strategise on outplaying them.
Pricing/Cost Issues – It's always good to get advice from the market on your pricing structure.
Poor Product – This is a biggie! If your product sucks… you lose… period!
No Business Model – You're in business for business… not for charity. Get real and have a business model in place.
Poor Marketing: Learning how to sell stuff online is the coolest skill to acquire in today's age!
Ignore Customers: What would you do if someone walks into your door and you walk away? No money and no honey.
Product Mis-Timed: Timing is everything. Watch this TED Talk by Bill Gross who's studied hundred of startups, and his conclusion is that "Timing" is everything – the #1 factor.
Lose Focus: You snooze, you lose. Chasing after too many rabbits will get you none.
Disharmony In Teams/Investors: The perfect recipe for disaster. Misaligned vision can take you nowhere.
Pivot Gone Bad – Not having the right strategy can cost you. That's why I consult people first on strategy.
Lack of Passion: If you don't know why the heck you're in business, then you better not be in it. Passion powers performance.
Bad Location: This may be true for some business. But for an internet location in terms of where you want to show up matters a lot.
No Financing: There's no free lunch in business. You've got to tap into some resources to make things happen. Take those risks now. Invest in your education.
Legal Challenges: Especially if you're into products there IP is key, be sure you have the best lawyers advising you.
No Network Of Advisors: Always good to have a board of advisors helping you make the right decisions.
Burnout: If all of the above are not followed, it will lead to burnout. Working hard for nothing is a terrible feeling.
Not Willing To Admit Mistakes: Let your ego not take over. Stay hungry and stay foolish.
The Hidden Reason Why Internet Marketers Fail?
Here's a powerful video interview where Tony Robbins discusses with Frank Kern and John Reese on why internet marketers fail online. Grab your favorite beverage, sit back and watch this whole video.
Over To You! What You Do Think Are The Biggest Reasons For Failure?
Here's a video of one of my mentors (who's done over $200 million in online sales). I'm always amazed by how he's able to live a life that's super productive & and purposeful. Watch this video.
Welcome to the Internet Lifestyle blog!
I want to try my best to keep this blog jazz free, and only filter content down to what will work for you!
You see I've been blogging for over 8 years now and also tried various things in the internet marketing space.
Honestly, the ride has been quite a roller coaster!
Why Watch This Video
Here's a guy called Frank Kern!
– he's one of the most influential direct response marketers on the internet, who's made millions and millions of dollars online selling information products over the last decade.
Probably one of the earliest adopters of internet marketing who has had million dollar days!
Interestingly, after making tons of money for years, Frank actually got into a depression and realised that everything that he was doing was not congruent to who he truly was….
And that's when he decided to change something – which you'll learn in this video.
This is a 2hr video.. but if you stop everything you're doing and watch this today.. it will be life changing. Trust me!
You've got to watch this whole video for 5 reasons:
1. You will learn the real reason why you are not getting results in your business
2. You will learn how to sell effortlessly by tapping into your CORE.
3. You will understand that money is not the real motivation for all of us and that there's something deeper.
4. You'll will realise how to find your true purpose thru a pretty powerful exercise.
5. You will have the master key to influencing people across the world using the internet, using your CORE values!
Final Words
Frank Kern is one of the top pioneers in this internet marketing space.
He's made tons of money online, and this historic 2hr video has created more millionaires online that you can ever imagine.
Guys like David Wood has learnt some of these principles from Frank and created huge multi-million dollar empires online in the last few years.
Now only that, David Wood has also helped create over 15 millionaires by applying some of the principles mentioned in this video.
I would like you to watch the video above fully, and complete the exercise given.
It may take you a few hours to complete, but once done, you will never be the same again.