Are you looking to get more readers on your blog?
More traffic = more leads = more sales = awesome life!
While doing my research on this topic, I stumbled upon various top bloggers like Neil Patel, who shared some of their strategies on how they attract over 10,000 hits per day traffic on their blog posts.
In fact Neil Patel says in one of his posts that reaching 10,000 per day is very doable. He has multiple sites that reach well beyond this number.
Fair warning: it takes a lot of time and work.
I would like to share with you some ways that I research on how you can start drastically growing your traffic so you can eventually get to that point.
If you truly want to see changes in your blog, you need to create the right kind of content for your target audience.
You can't just publish your valuable content and pray for your target audience to visit your website.
You need to invite the people who will like your great content to your website.
Based on my research I've selected my top 10 methods from Neil Patel's original post on his blog.
1. Make your post into an infographic or a short video post
Visual content makes up to 93% of the content included in all human communication and this is why it works wonders with social media marketing.
1. Infographics – They are huge among B2B marketers. Their usage saw a tremendous increase this year – 11% (from 51% last year to 62% now).
Making your post into an infographic for the social channels is simple.
Just write the key points from your article. Then use a drag and drop tool like Infogram or Piktochart.
Ensure that the infographic fits your brand's style and blog's design.
If you're ready to spend around 500$, you can also hire a designer from Dribbble.
Next comes the important part – using the right distribution channels. You can submit your infographic to some of the following infographic directories.
2. Send the blog link to your email list
Email is a personal channel of communication.
It's little wonder that for acquiring new customers: Email is 40 times more effective than Facebook and Twitter combined.
Send your list an update for every new post published from your editorial calendar (like Neil Patel does).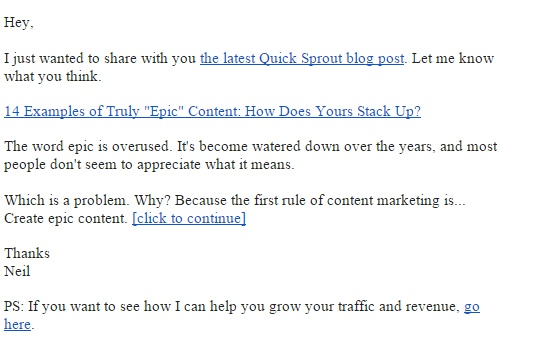 Some people don't like leaving their emails. So, they consume content in their inbox.
3. Get 2000+ Page Views from SlideShare
SlideShare is the biggest website for creating presentations and an underused platform by many media marketing experts.
It gets 50+ million unique visitors every month making it great for content promotion.
Also: The SlideShare team promotes good presentations themselves.  They do this on their social media channels and their homepage.
Here are steps to get started with SlideShare.
Step 1 – Create slides summarizing key points from your blog post. Work extra hard on the design.
Step 2 – SEO rules apply if you want to get noticed by the search engines.
Use keywords in the title and description strategically. Targeting long-tail keywords in slides has particularly been found to do well (even in search engine giant like Google).
Step 3 – Promote the SlideShare presentation through your social networks. And, embed it in your blog post as well.
Step 4 (Optional) – If it's a relevant presentation displaying your work experience, you can also add it to your LinkedIn profile summary.
They appear as clickable links on your profile.
Finally, follow SlideShare's guidelines to increase your chances of getting noticed.
Getting on Slideshare's homepage can get you 2000+ page views, again that's great for content promotion.
4. Get on BuzzFeed's first page
BuzzFeed gets 170 million monthly page views.
And 50% of its traffic is from the age bracket of 18-34.

Getting published at BuzzFeed can get you tremendous exposure and do good things for your search rankings (it's a DA 94 website). BuzzFeed also has a strong presence across the social channels.
And, it's easier than you think. BuzzFeed has a community section where it publishes crowdsourced stories from users.
The best part is that BuzzFeed pushes the good stories and great content from the community. It promotes the stories through its social channels and puts them on the homepage.
Just make sure you tick the "Suggest For Community Feature" before publishing your post. You can submit 1 post/day with the request to get featured.
5. Get thousands of pageviews from Reddit
Reddit is a gigantic online forum boasting an impressive Alexa rank – 30.
It is a gold mine for driving traffic to your website, but you need to be careful when implementing it in your media marketing plan.
Reddit users hate spammers…
They don't seem to have much use for content marketers in general.
Stratupbros puts it aptly.
6. Engage on Quora, have fun and build your audience
It's highly likely that you have found an Oliver Emberton article floating in your Facebook or Twitter feed.
Oliver's most popular article – life is game, has been shared a whooping 644,000+ times on the social channels
A major reason for his success with social media marketing is originality in the presentation of his ideas. He also uses custom images like this.
7. LinkedIn – A goto distribution platform for B2B marketers
94% of B2B marketers distribute their content creation on LinkedIn.
eady to get started with LinkedIn publishing?
Then follow these steps by HubSpot.
8. Offer your post as a podcast to reach a new audience
New York Times explains that internet connected cars are a major reason for the Podcast Renaissance.
This renaissance has led to 26% of content marketers planning to increasing their podcasting activities.
But, only 10% use it right now, so your window of opportunity is wide open for working it into your editorial calendar.
A huge benefit of podcasting is that your consumers often become regular listeners.
Don't get scared.
Getting your editorial calendar content published on the biggest blog in the world is easier than you think.
You know people have been published at Huff Po by pitching Arianna Huffington directly.
 Final Thoughts
The first step is that you need to have some really valuable and shareable content, like this one.
If you consistently implement these techniques for three months without giving up, you'll generate more qualified visitors to your blog – likely, 20,000 or more.
In many cases you don't have to even write all of them yourself. You can just get good at curating the best content like how I just did on this post.
This post was originally on Neil Patel's blog, but I took parts of the post and shared it here giving my own twist.
As long as I'm acknowledging the source and not making this post seem as mine, it's ok. Neil will like the fact that more traffic is going to come to his blog post via my blog.
You can make some serious money online once you start generating some good blog traffic.
If you're up for it, then click on the link below and learn how blogging can change your lifestyle.
Here's a proven system

which has created over 13 internet millionaires in the last 3 years.